Abebayehu sure knows her sheep. The 30-year old farmer, who lives in Serera Bukata village in the mountainous south of Ethiopia, has bred a number of multiple-awarding rams. But up until 2018, she wasn't allowed to sell her sheep in the market – or make decisions about when and if to do so. "It was either my husband or the broker," she said. 
That year, however, the International Centre for Agricultural Research in the Dry Areas (ICARDA) in partnership with research program on climate change, agriculture and food security, and Areka Agricultural research Centre began to pilot a women's community-based breeding program (wCBBP) for sheep farmers in the village. Slowly, things started to shift for Abebayehu. "Now, the wCBBP allows me to access the market, and my animals have a higher market value compared to others," she said.
A space of their own
ICARDA and partners have been running CBBPs in the area for over a decade, with considerable success. However, the project in Serera Bukata is the first initiative of this type that's gender-targeted. Women in the region are traditionally responsible for the care of sheep, but decision-making and sales are usually done by men. As such, while the original CBBP programs were theoretically open to all genders, "we noticed that the involvement of women in these programs was very minimal," said Aynalem Haile, a scientist specialising in small ruminant breeding at ICARDA.
So, the organization started intervening in those programs through gender-targeted capacity development and transformative-action through community conversations. But gender norms run deep in the region, and the scientists found that, in mixed-gender settings, women were unlikely to speak up or show leadership.
"When you put everyone together, usually the men dominate," said Haile. "So, to get an idea of the roles that women could play in breeding programs and in other value generators, it's always good to consult the women separately. And at some stage we said, 'why don't we just start a women's CBBP'?"
In doing so, they created a safe space for women to speak freely, participate in decision making, and claim leadership and committee positions. To maximise accessibility for vulnerable women – particularly younger women and those in male-headed households – the flock size requirement was lowered to one ewe (other CBBPs in the site require 3 for enrolment).
Win-win for women
Initially, uptake of the program was relatively slow: in the first two years, only 20 women joined. In 2021, however, the group began to grow rapidly, with around 60 women now involved. Emna Rekik, a research fellow at ICARDA, travelled to the site this year to find out why uptake has increased so significantly. She found that women in the village were catching on to the significant economic, social, and personal benefits that the program provided.
The community aspect of the wCBBP is significant. All the women Rekik spoke to said that they felt more comfortable in this CBBP than any other. "I love our meetings in wCBBP, where we can discuss everything freely without influence from men," said Abeynesh, a 25-year-old program member, who is also the group's accountant. According to Rekik, "the women feel like this is like their own community; they don't see it just as work, but also as an opportunity to socialise, to do activities together, to laugh, to talk about their lives."
The wCBBP also improves women's access to technical and managerial skills, finance, agricultural inputs, and services, as well as to marketing and business networks. Training provided by the cooperative are highly valued by members.
"Before wCBBP, I didn't know anything about breeding or how to improve livestock productivity," said Abeynesh. "I now understand the value of a good breeding ram, and how important it is to follow instructions we get from researchers."
All wCBBP participants acknowledged that joining the cooperative helped them to access enhanced market information, which informed their decision making, such as by avoiding early selling of their livestock.
As Abebayehu's story illustrated, the program also allows the women to sell their own rams in the market – and receive the recognition and high set price of CBBP sheep, especially the breeding rams. The animals of the cooperatives are distinguished in the market as reputable and sought-after, and highly valued for purchase. The price of these animals is set by the cooperative, are non-negotiable, and are recognised as being very fairly priced – further increasing confidence with potential buyers.
The cooperative is also responsible for creating a link between the producers and customers from other cooperatives, increasing supply and demand and introducing economies of scale. As a result, the value of the breeding rams has increased by 42 percent over the last two years.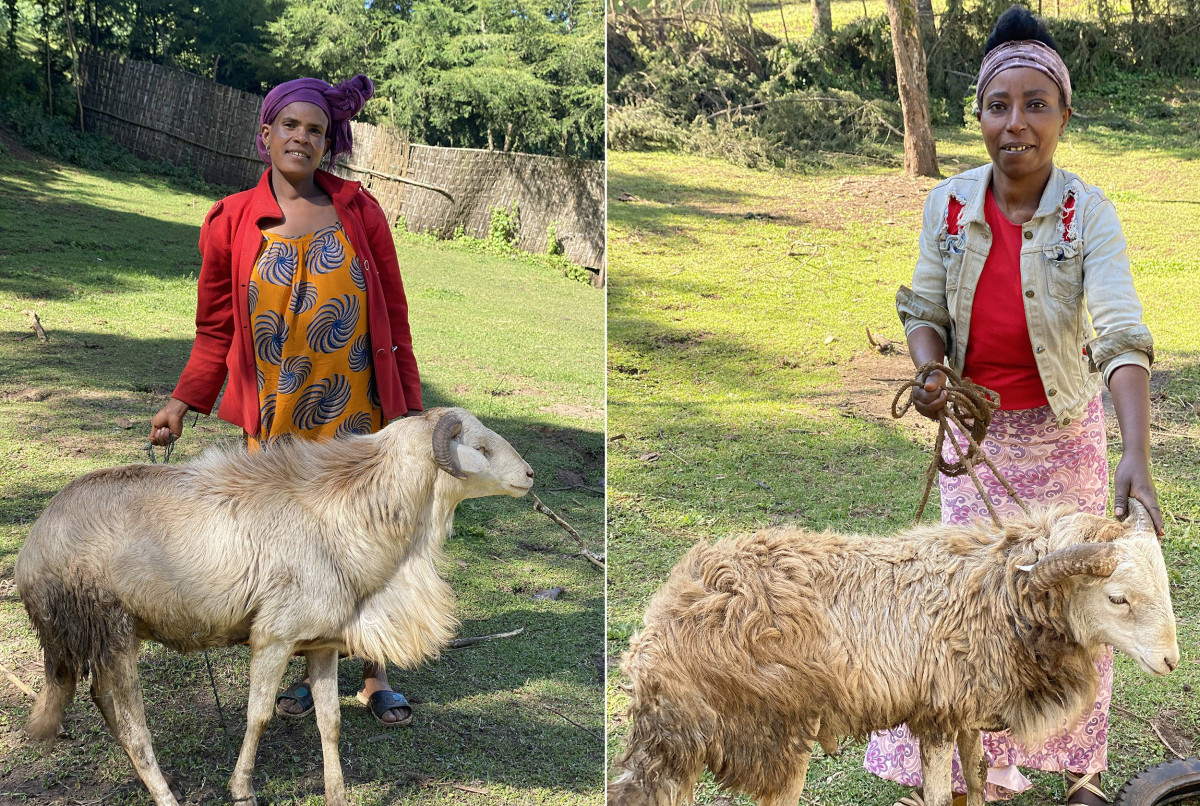 Financial empowerment
This financial boost provides wCBBP members with an opportunity for ownership and control over resources and assets. Each member puts a percentage of her income from sheep sales back into the wCBBP, and some put the remainder of the money into a savings account, while many spend it on their children's food, health, and education expenditures.
Others use the cash to expand their businesses by buying improved rams and building proper sheds for their livestock, instead of keeping them in their homes. "Joining wCBBP has changed my life," said 30-year-old wCBBP member Tigist. "I'm now able to invest the income I'm getting to build a proper shed for my flock. My dream now is to buy a land to produce forage and open a small mill." 
These sales also help to balance gender disparities and challenge stereotypes at the household and community level. Many women involved in the project report that the greater their economic contribution to the household, the greater their involvement in household decision making. Within the village, "many women report feeling more respected now, because people look at them like they are businesswomen," said Rekik.
The wCBBP also seems to be a particularly worthwhile investment for funders and development organizations. As part of her research, Rekik spoke to an enumerator, who is employed to record specified biological data of the sheep flocks owned by members of the cooperatives. He said he found that in general, women were more receptive, honest, and engaged with the program than their male counterparts.
He also reported that livestock managed by women had a lower mortality rate, with fewer animals contracting disease, which he believes is due to a greater duty of care towards their livestock. This diligence is in turn reflected in their financial success: in two years, women participants have managed to raise the same amount of capital for their cooperative as other cooperatives in the surrounding area which have been operational for six to seven years.
Challenges and next steps
The women still face basic challenges in their farming practices. Feed shortages and scarcity of land and water remain significant; and keeping livestock in their houses – as most small farmers in the region do – is a significant inconvenience, especially as flocks grow. With little cash to invest in materials, the women are often hamstrung by ongoing costs – such as needing to buy a new plastic feed bucket every week, as the aggressive sheep they breed tend to break these quickly, but metal buckets are often an unaffordable outlay.
Looking forward, the group hopes to get government support to address some of these issues, such as through the provision of seeds for growing better forage, and more durable buckets for feeding their animals. They hope to continue expanding the collective, making it into a company, and differentiating their offerings from the other CBBPs – for example through the use of a special label on their products.
Haile emphasises that it will take several years to gain decisive data on the impacts of the program, as breeding is a long-term investment. But based on the preliminary observations so far, "what I expect in the next few years is a substantial improvement in the performance of their animals; in the income of women; and in household nutrition, because some of these animals will be slaughtered and consumed," he said. "So I'm expecting that this will all lead into women becoming more empowered."
Read more about community-based breeding programs: