On 5th October, long-time ILRI scientist and Director of the CGIAR Research Program on Livestock (Livestock CRP), Thomas F. Randolph, received the distinction of "doctor honoris causa" from the Faculty of Veterinary Medicine and Animal Science at the Swedish University of Agriculture Sciences (SLU) in Uppsala, Sweden. Randolph was one of seven honorary doctors appointed at SLU in 2019.
It was a very distinguished affair.
The march of honorary graduates into the brightly lit awards hall, together with the university's vice-chancellor and other dignitaries, was accompanied by trumpets and banners reminiscent of royal middle age courts. The women wore long evening gowns while the men sported 'frack': the Swedish version of white bowties, waistcoats and black tails. The ceremony was delivered in a mixture of Swedish, Latin and some English, while awardees were bestowed a diploma, a gold ring embossed with the insignia of the awarding faculty and a pleated top doctoral hat–symbol of freedom and power, a throwback to ancient Roman times where only free men were permitted to cover their heads.
The award was conferred by Erling Strandberg, Professor in animal breeding and genetics at SLU, who expressed the faculty's respect and great esteem for Randolph's "contributions to the understanding of the need of a social and economic perspective on animal health interventions in low income countries." Strandberg also cited the university's appreciation for Randolph's efforts in inviting several research groups from the Faculty of Veterinary Medicine and Animal Science to the CGIAR research agenda.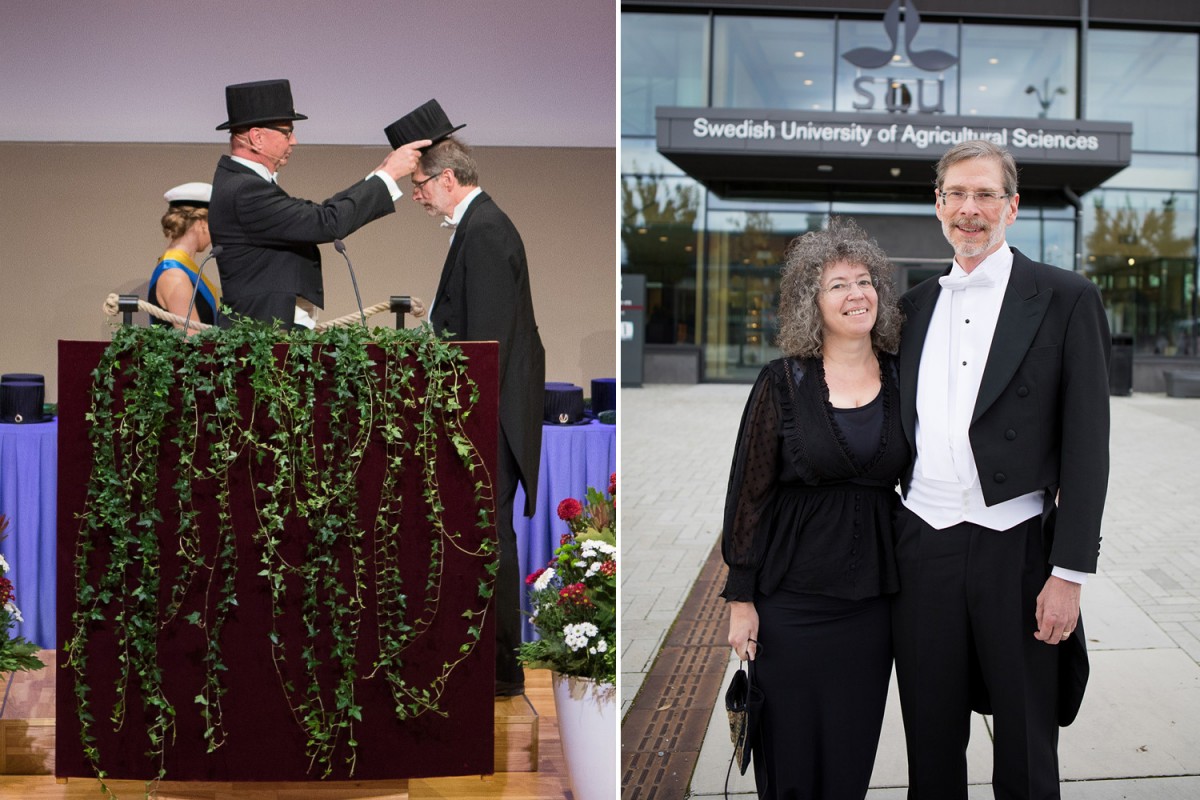 We spoke with Randolph afterward, who shared with us what this honor means, not just for him, but for SLU, ILRI and CGIAR.
At the opening of the lecture you delivered the day before the award ceremony, you spoke about your great-grandfather's Swedish roots, and how proud he would have been of this honor. What else does this honorary degree mean to you?
For me, the honorary degree provides huge satisfaction in seeing recognition of the work ILRI has led on providing a developing world perspective on veterinary epidemiology and animal health economics, and my contribution to it. I am the second of our group within ILRI to receive the award – the first being the leader of our team, Brian Perry, in 2015. Equally gratifying is the recognition of our commitment to strengthen the partnership with SLU and my constant goal of experimenting with new ways of working together that go beyond personalities. In this I must acknowledge the key role that Ulf Magnusson has been playing in sharing that vision and commitment from the SLU side.
How far back does the relationship between SLU and ILRI go?
SLU has been a long-time collaborator of ILRI, starting mainly in the area of small ruminant genetics. Jan Philipsson, SLU emeritus professor of Animal Breeding and Genetics and former head of that department, served on the ILRI Board from 1999 to 2005 as chair of the program committee. SLU and ILRI had a series of joint projects and student degree programs over the years funded by SIDA and other donors, and that expanded to include work on helminthic resistance and livestock health issues. ILRI currently also has a joint appointed researcher with SLU, Johanna Lindahl.
Within the CGIAR Research Program on Livestock (Livestock CRP), since 2017 our Livestock and Health flagship has been led by Magnusson, who is a Professor of Animal Reproduction at the Department of Clinical Sciences in SLU. Magnusson brings expertise on infectious diseases in livestock that affect reproduction and might be transmissible to humans (zoonotic), including leading research more recently the Swedish world-leading expertise on mitigating antimicrobial resistance in livestock.
What makes SLU a good fit as a partner of the Livestock CRP? 
We saw the CRP as offering an opportunity to step up and consolidate the SLU engagement within the CGIAR. It is a good fit from both sides. SLU established SLU Global to lead its increasingly outward looking mission to contribute to agricultural and social development beyond Sweden. The CRP offers a means to involve SLU more systematically in developing and implementing our CGIAR research agenda. Based on our previous collaborations, it was clear that SLU could significantly strengthen the depth and capacity in our core technical areas of livestock genetics, health and nutrition, while addressing particular blind spots we have in the areas of herd health and reproduction – which we have increasingly recognized as critical when trying to improve productivity in smallholder systems.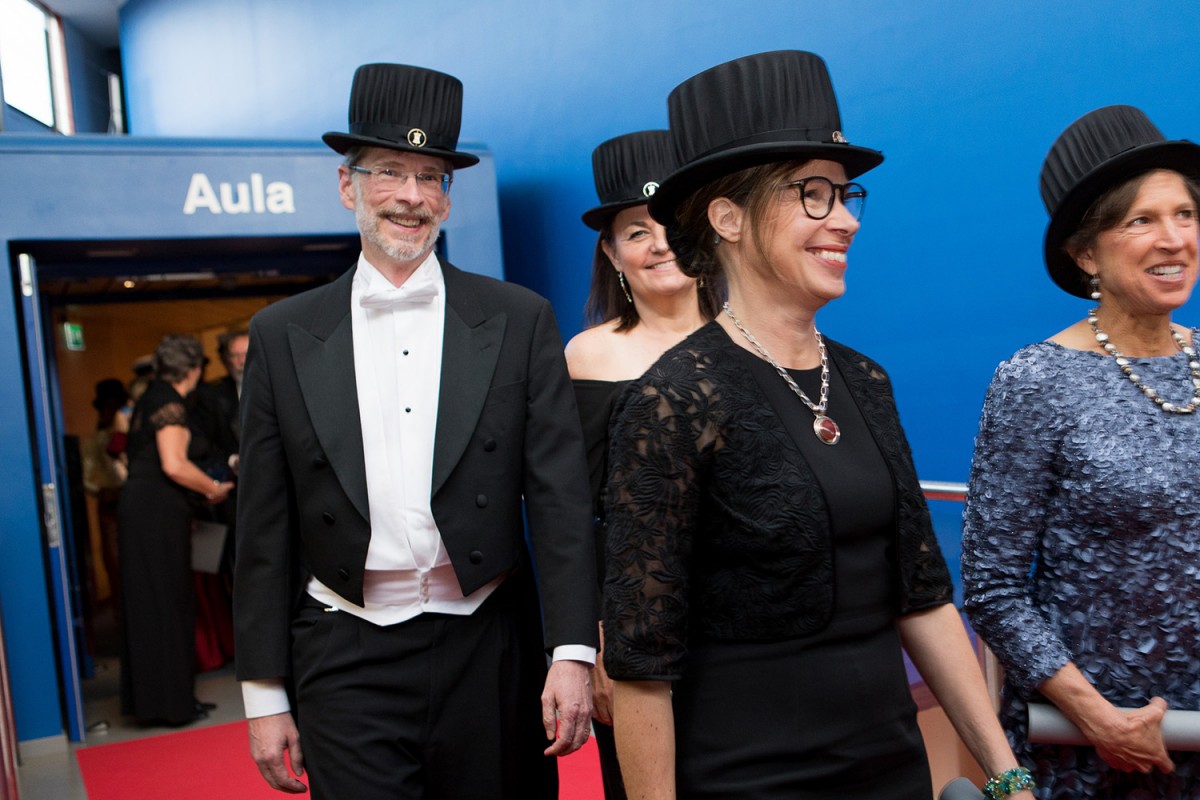 Harnessing university capacity into the CGIAR research agenda is an ongoing challenge. How are you managing this?
Thankfully there is a lot of goodwill in our experiment, but we are not there yet: it has been difficult to meet the requirements of dedicating multi-year funding support for student projects, which are the main mechanism for this type of academic collaboration, when CGIAR funding is decided only on a year-to-year basis. Unless we can find a strategy that works, we will continue to be limited to the one-off ad hoc types of collaborations within individual donor-funded projects that, while quite rich, do not add up to more than the sum of the parts. In the closing of my lecture, I urged SLU to help encourage a new generation of economics and veterinary researchers to take up the challenge of unpacking the differences between livestock systems in developed countries and those in lower income countries, to develop inter-disciplinary approaches and sustainable solutions.
You've dedicated 30 years to developing solutions and opportunities for livestock keepers in low-income countries. What continues to drive your commitment?
Unfortunately, the drive comes mainly from frustration in seeing the persistent gap between developed and developing world livestock productivity and livestock health and the continued potential for achieving better outcomes from livestock. While we are certainly doing good research in our various areas, we continue to face challenges in getting our work to join up and translate into uptake and impact. And of course, we embrace this challenge! Part of where I would like to continue to contribute is part in figuring out how we manage and target our research processes more effectively to get to that impact, and part would be continuing to use the power of economic analysis to understand how we create appropriate incentives to stimulate the change we would like to see happen in empowering smallholder livestock keepers to protect better the health of their animals and their communities.