CGIAR researchers and their partners have developed evidence on how the livestock sector can play a significant role in efforts to reduce environmental degradation and slow down global warming, while at the same time meet the livelihood and nutrition security needs in Tanzania.
Tanzania has the second largest population of cattle in Africa, after Ethiopia, yet its dairy sector is unable to meet the country's annual demand for milk. This demand is expected to rise as the population increases. Over the last decade, CGIAR researchers have been working closely with farmers, private sector actors and the government to identify solutions to raise the productivity of farmers and the dairy sector. A big part of those solutions include actions, technologies and policies that can contribute to creating not only a thriving dairy sector, but a more sustainable one.
To disseminate these research findings, a high-level stakeholder meeting was held in August 2021 in Dar es Salaam, dubbed 'Maziwa Zaidi (More milk): policy actions for climate smart dairy development in Tanzania'. Key stakeholders in the livestock and environment sector who attended the meeting demonstrated their support and welcomed the recommendations presented by researchers aimed at transforming Tanzania's dairy sector into one that optimizes productivity to meet the country's economic development aspirations, optimizes the productivity of dairy farmers,  while at the same time can help mitigate the environmental impact of the sector.
The meeting took place at an opportune time, coinciding with the release of the UN climate report that issued a "code red" warning on climate change. The report, released by the Intergovernmental Panel on Climate Change (IPCC,) called for urgent actions to significantly reduce greenhouse gas emissions to hold the global temperature increase to under the 1.5C (2.7F) limits set by the 2015 Paris Agreement. A climate-smart dairy sector in Tanzania could contribute to these actions.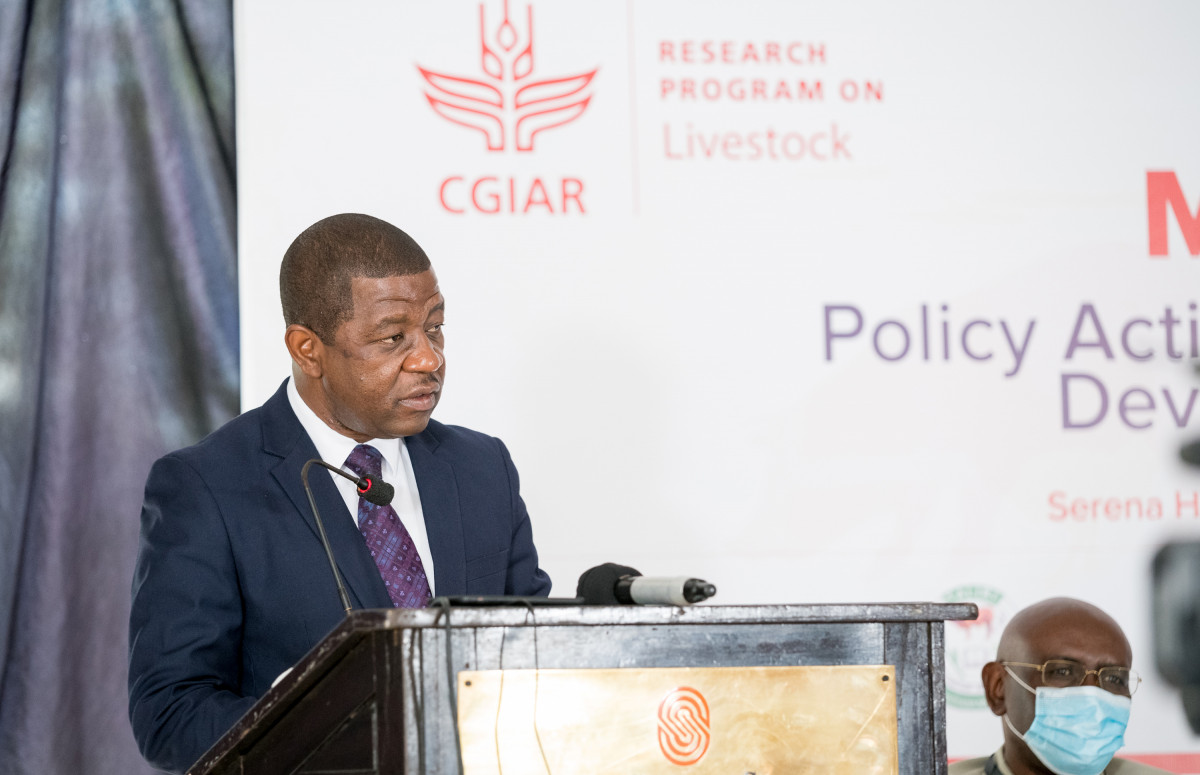 The guest of honor at the meeting was Deputy Minister Abdallah Hamis Ulega of the Ministry of Livestock and Fisheries, who lauded the research recommendations. He noted that while modernizing and transforming dairy production in the country is a key priority, he stressed that it would need to be implemented hand-in-hand with environmental considerations.
"Any efforts we put in place to transform our dairy sector will not bear fruit unless we address climate change – both the challenges it poses to the livestock sector and the impact that the sector itself has on climate change," he said.
Letting the numbers do the talking
Domestic milk production in Tanzania stands currently at about 3.4 billion litres, with a deficit of 9 billion litres – meaning that the country is unable to deliver on the population's demand for milk. If the sector continues to maintain current productivity rates and no action is taken, it is projected that the milk supply-demand gap will widen by 77% over the next 5 years.  
"It's critical that stakeholders mobilize and act soon," said Amos Omore, country representative for the International Livestock Research Institute and team leader of the Maziwa Zaidi II. "The good news is that we have the evidence to show that a sustainable dairy sector is within reach. We know which policy opportunities and interventions to pursue, and convened the key stakeholders who are in a position to enact them."
The recommendations and solutions identified by CGIAR researchers are adapted to local farming conditions, animals and the smallholder farmers who are responsible for providing majority of the milk supply in Tanzania. They are also holistic in nature – looking at the dairy system as a whole – and are designed to withstand a changing climate and environment.
"One of the potential quick wins we have seen is that improved feeding and forages, when combined with better livestock genetics and health, can deliver positive synergetic outcomes for people and the planet," said environmental scientist Birthe Paul of the Alliance of Bioversity International and CIAT. "Our research has shown that when these are skillfully implemented, dairy farmers can nearly double their farm-level productivity and reduce greenhouse gas emission intensities by half."
Prof. Erick Komba, a research partner and director general of the Tanzanian Livestock Research Institute (TALIRI), added to this and said, "We have also seen evidence that improved forages can provide environmental benefits.  They provide soil protection and improved soil fertility for increased food productivity and climate change mitigation and adaptation."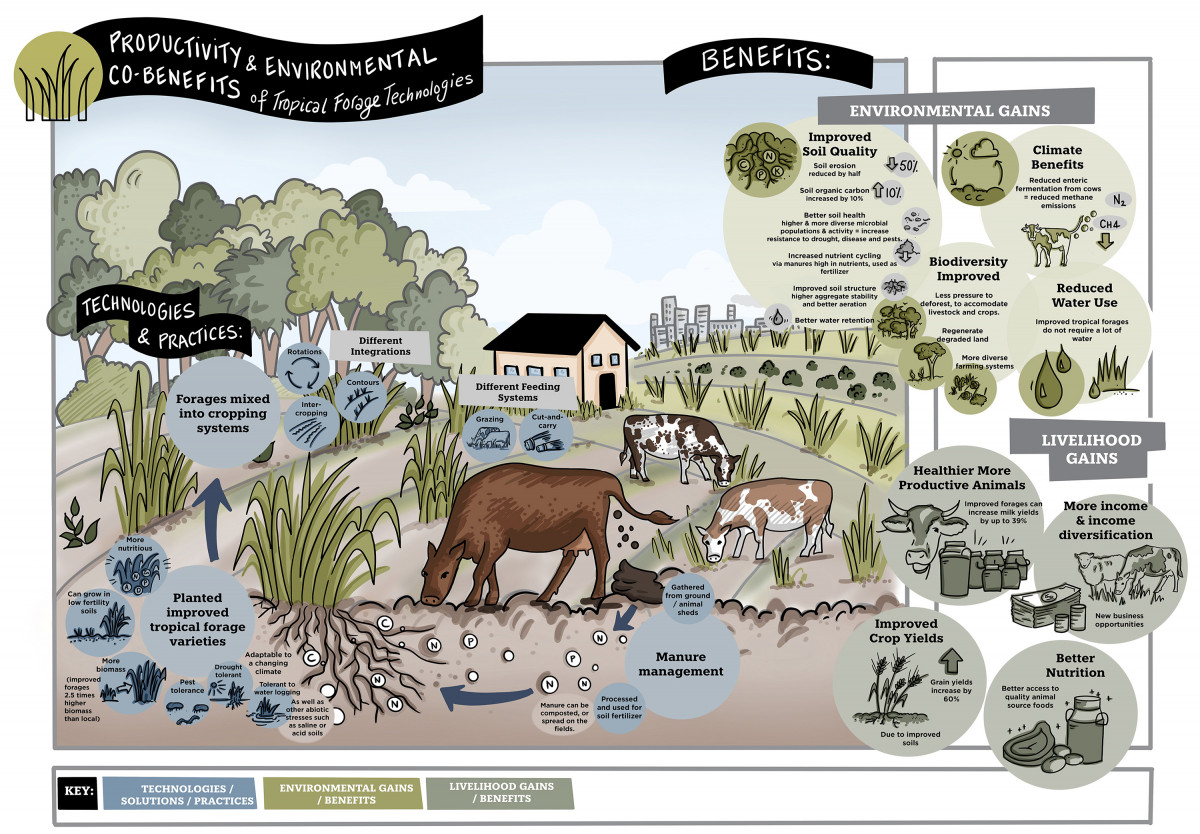 Delivering a climate-smart dairy sector
Adoption and implementation of solutions to make Tanzania's dairy sector more climate-smart will require greater awareness as well as multi-sector cooperation by policy makers, researchers, donors and non-governmental organizations.
Climate smart dairying also calls for an integrated approach, specifically making available to dairy farmers more productive and locally adapted livestock, suitable shelter, appropriate feed, veterinary services and sufficient water.
"In addition to a supportive policy environment, the key to all this is targeted investments", said Angello Mwilawa, Director for Research, Training and Extension at the Ministry of Livestock and Fisheries. "Development actors and the private sector need to increase investments in climate-smart dairy production programs, while non-governmental organizations should make climate-smart dairy production an integral part of their rural development programs that dairy farmers."
Such investments should also target better access for dairy farmers' to inputs, markets and knowledge and skills, and also identify ways to resolve issues around limited availability and accessibility to land, especially for women and youth.
To encourage these investments, it is critical that stakeholders highlight the positive role that livestock can play in restoring degraded landscapes and the availability of solutions to mitigate its contribution to greenhouse gases emissions in the agriculture sector.  
"The negative narrative surrounding livestock in the west often overshadows the positive contributions that dairy can make to livelihoods and the environment. It has also negatively impacted investment in research, policies and actions around livestock," explained senior scientist An Notenbaert of the Alliance of Bioversity and CIAT. "At CGIAR, we are committed to continuing to develop more evidence-based research that show the real benefits that climate-smart dairy can offer."
Why science-based policies and decisions matter
In his closing remarks, Maulilio Kipanyula, director of Science, Technology and Innovation, at the Ministry of Education, Science and Technology, stressed that there can never be a true and sustainable dairy industry development without high quality research and commitment to embrace technological advances.
"It is imperative for research institutions to plan their research activities to not only to focus on knowledge creation, but also to translate their findings into tangible products and services which directly benefit the local community," he said.
Birthe Paul, who led the convening committee, described the meeting as a success. "It was reassuring to listen to the commitments made by the stakeholders to apply the knowledge shared and to promote climate-smart dairy farming in Tanzania in their sectors and various capacities," she said. "Our next steps are to regularly follow up and meet with these stakeholders, to ensure we do not lose the enthusiasm and momentum that we have generated."

--
The policy engagement meeting was organized jointly by TALIRI, the Alliance of Bioversity International and ILRI, as part of the Maziwa Zaidi II program of the CGIAR Research Program on Livestock. The program aims to catalyze an inclusive and sustainable development of the dairy value chain that is beneficial to all value-chain actors in Tanzania.
Among others, the program draws on findings from 4 years of IFAD-funded research conducted by a team from the Alliance and ILRI in the Southern Highlands focusing on climate-smart feeding practices for our dairy cows.
About the event and policy recommendations for climate-smart dairy in Tanzania: