Eighteen-year-old Yeshareg Tesfa was one of the first members to join the newly established sheep fattening youth group in the Ethiopian village of Menz Gera, back in 2018. At the time, she was wholly dependent on her parents, with little formal education to lean on. She had been trying her hand at sheep fattening using the traditional ways, with mixed results, selling sheep only twice a year. Since then, with the skills and training she acquired as a member of the youth group, Tesfa is now able to fatten four rams, four times a year, and harbors future plans to double the number of rams during each fattening cycle. 
"Information makes one realize that opportunity is in your reach," says Tesfa, who has risen in the ranks and is now the leader of her youth group. "I previously believed that living a successful life was all about fate–that success is given not taken, but now I know that success is in my hands"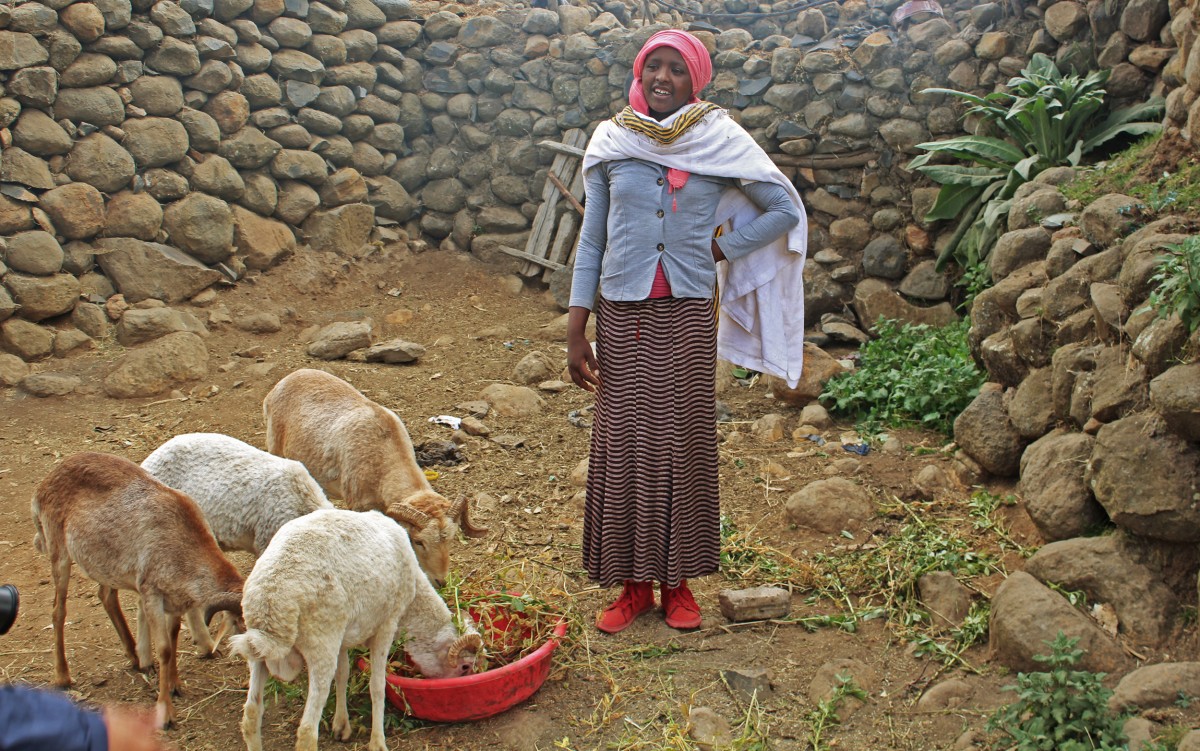 Tesfa is one of 485 young women and men in the highland regions in Ethiopia who have participated in a joint project led by the International Center for Agricultural Research in the Dry Areas (ICARDA) and the Technologies for African Agricultural Transformation (TAAT) program. Forty-four youth groups were set up as part of the program, providing the structure for members to receive training to become implementers and disseminators of improved and market-oriented sheep fattening technologies and practices.
When they first join, members receive a one-off start-up package consisting of one ram, a feeding and water trough and a block of salt lick. They are taught optimal feed practices using locally available feed resources, sheep husbandry, and the importance of engaging key technical services such as deworming, vaccination and castration. Most importantly, youth members receive entrepreneurial skills training to orient them towards market-oriented sheep fattening.
Making room for youth in a lucrative space
Sheep fattening is a long-standing popular practice in Ethiopia that targets the festive seasons. As a business, it provides wide-ranging economic benefits to communities through direct sale of fattened rams, while stimulating economic activities along the small ruminant value chain (SRVC). In many rural areas, however, traditional sheep fattening methods tend to be inefficient, due to scarcity of suitable feed, poor husbandry practices and prevalence of disease. Lack of market access can also be a challenge.
The youth sheep fattening program builds upon ICARDA's community-based breeding programs that have been running across rural areas in Ethiopia since 2012 and sheep fattening interventions that were introduced in 2014. Improved breed selection of sheep has opened up new viable and sustainable livelihoods opportunities for poor rural farmers, which are now being extended to include youth.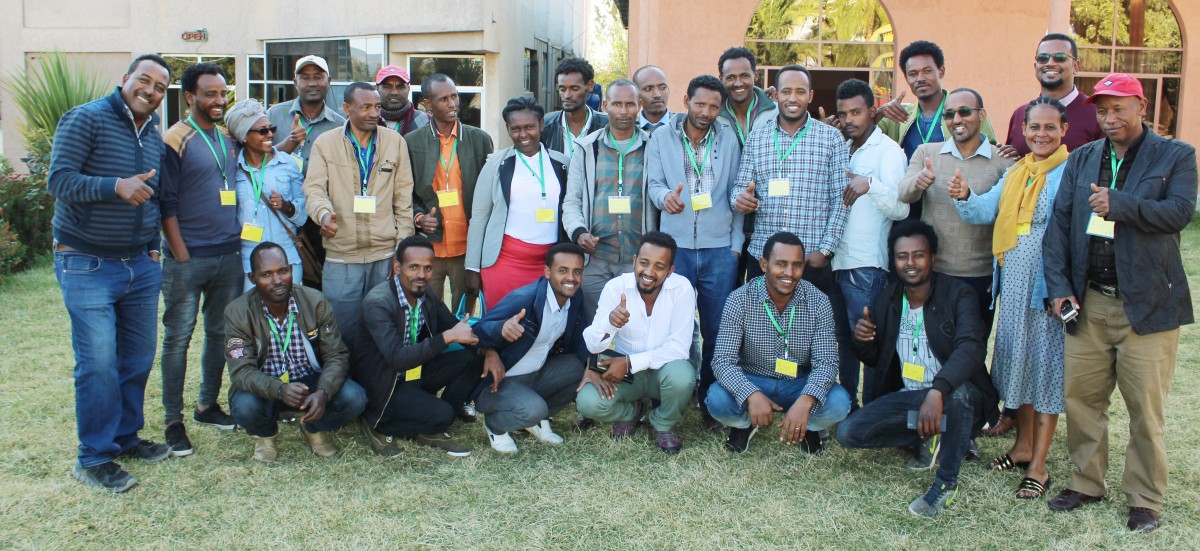 Training tomorrow's entrepreneurs
As part of the efforts to strengthen the program, in 2019 ICARDA and TAAT conducted trainings in Entrepreneurial Skills Development and workshops for communication, interaction and cooperation between grassroots change and development agents, researchers and government Ministry officers, to fill in knowledge gaps and help commercialize sheep fattening as a pathway to tackling youth unemployment. Participants in the workshops also sought to understand how local knowledge and systems might shape innovation in commercialization of sheep fattening.
The overall objective of the practical oriented trainings was to familiarize participants with fundamental entrepreneurial skills, to provide them with sound understanding of business terms and planning, along with different business models of sheep fattening with an aim to support upcoming youth groups and farmer entrepreneurs in sheep fattening within their localities. One of the services provided by youth groups to their members, for instance, are market prices and appropriate locations to sell their rams.
"What we're trying to do through the entrepreneur skills training is to spark creativity and innovation to improve business performance amongst the youth groups," explains Jane Wamatu, feeds and forages scientist and ICARDA leader of the youth sheep fattening project. "It is not enough to become expert sheep fatteners. We want the youth, especially the young women, to have the skills to run a successful business."
Breaking gender barriers
With about 40% women participation, the program has made efforts to ensure the integration of young women like Tesfa into the youth groups. Rural women often face gender-related barriers that limit their access to and control over resources such as land and livestock. Many have limited opportunities to access education and employment, or access to resources to generate income.
Amsalech Hailemariam is a 29-year-old mother from Bonga, in the southern highlands, who never got the chance to attend school. For six years she practiced traditional methods of sheep fattening, with minimal success. She now leads her local Shaya women sheep fattening youth group and reports that her income from each fattened ram has more than doubled. In addition to the practical trainings in improved fattening technologies, she credits part of her success to having an entrepreneurial mindset.
The youth group has also doubled as a support group for Hailemariam. "Joining the group gave my friends and I the chance to meet, discuss and share experiences of sheep fattening with each other," she says. It has also given her the confidence to be an active member of her community, attending open field days to share her sheep fattening experiences and speak up for other youth. She is determined to keep the group going and encourage new members to join, especially women.
Hailemariam says with determination, "Let us embrace inclusivity and we will bring change to our community."